Star Wars Is A True Story; Ripple Closes $200m C; Fed Direct Deposit Network Outages; Markets Ignore Impeachment
Issue #48 December 20 2019
It is the weekend before Christmas so I will keep this curated feed of things that are worth paying attention to this week short. Happy Friday. The Resistance will be in full force in theatres as a reminder and escape from our present reality so enjoy it and then noodle on the few key signals below and remember to think each day :)
RIPPLE CLOSES A $200m C-ROUND TODAY!
People can debate a lot of things related to the future of crypto or payments, but when an institutional c-round of $200m goes into an enterprise technology company operating on a decentralized ledger system that should get everyone's attention long enough to drop preconceived notions and dig in a bit further to understand why others think there is a real "there"-there. Congrats to @bgarlinghouse and @ripple. Read the full story below:

THE FED ACH NETWORK FAILED YESTERDAY CAUSING MASSIVE DIRECT DEPOSIT DELAYS!
Nothing makes the already stressful Christmas season for most people more stressful than opening up your bank account on payday to find that your direct deposits haven't arrived and your company has sent them. That happened at an alarming scale a few days ago to most Capital One customers and others as the Federal Reserves network had another unexplained outage. Don't worry though folks "the banking system is fine and the economy is stronger than ever (wink-wink)". Read the full story on Zerohedge below and then remind yourself why maybe the $200m round in the previous story makes sense if a new set of rails for payments and direct deposits is the future of global currency flows.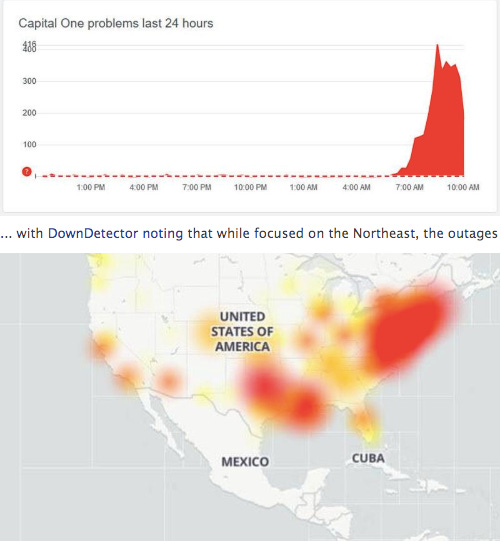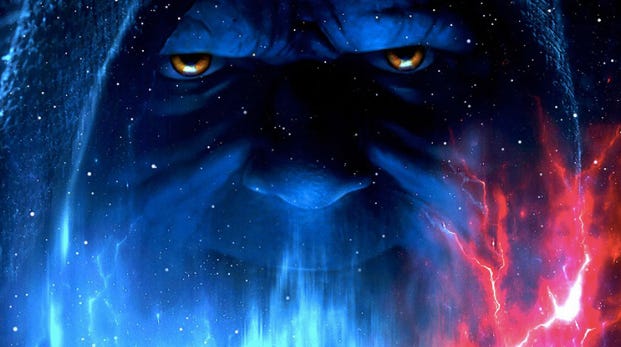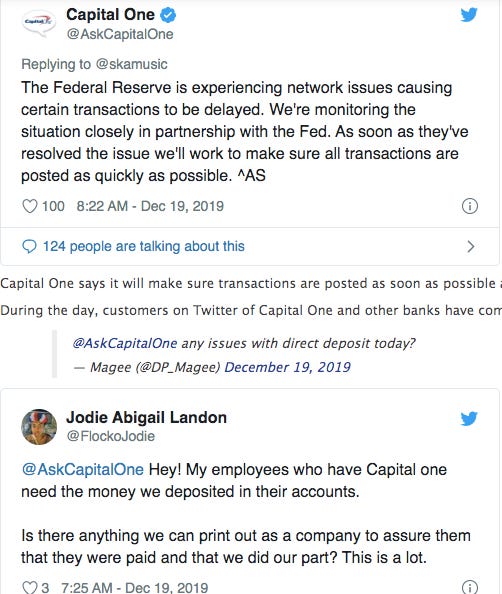 FINANCIAL MARKETS ROAR DESPITE IMPEACHMENT IN THE HOUSE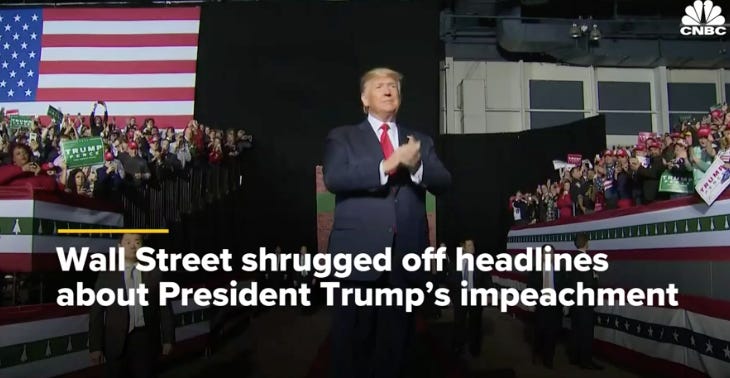 There are larger costs that will come from the unfortunate realities of our broken political system which is in need of a major overhaul of process, but smart (and dumb) money was unphased this week as markets continue to act like teenagers at a Motley Crue after-party in 1983. Everyone is hopped up and addicted to the continued abundance of debt-fueled growth, and low-interest free money as the Fed acts like the ultimate enabler of this decades-long party that will eventually end with an unprecedented hangover somewhere in the next 10 years. The primer below from a month ago is worth a read.
An Excerpt from Zerohedge's "The Impeachment Pantomime" Read the full story
The Price of Irresponsible Theatrics
This leaves us to reckon the price our troubled republic will pay for months of irresponsible theatrics that are more or less preordained to lead nowhere.
More questions. What damage will the Democrats have done when Ukrainegate draws to a close (assuming it does at some point)? What harm has come to U.S. political institutions, governing bodies, judiciary and media? The corporate press has been profligately careless of its already questionable credibility during the years of Russiagate and now Ukrainegate. Can anyone argue there is no lasting price to pay for this?
More urgently, what do the past three years of incessant efforts to unseat a president tell us about the power of unelected constituencies? The CIA is now openly operating on American soil in clear breach of its charter and U.S. law. There is absolutely no way this can be questioned. We must now contemplate the frightening similarities Russiagate and Ukrainegate share with the agency's classic coup operations abroad: Commandeering the media, stirring discontent with the leadership, pumping up the opposition, waving false flags, incessant disinformation campaigns: Maybe it was fated that what America has been doing abroad the whole of the postwar era would eventually come home.
What, at last, must we conclude about the ability of any president (of any stripe) to effect authentic change when our administrative state — "deep," if you like — opposes it?
Have a great weekend and I wish you ever-compounding wealth and may the force be with you, always! ~Chris